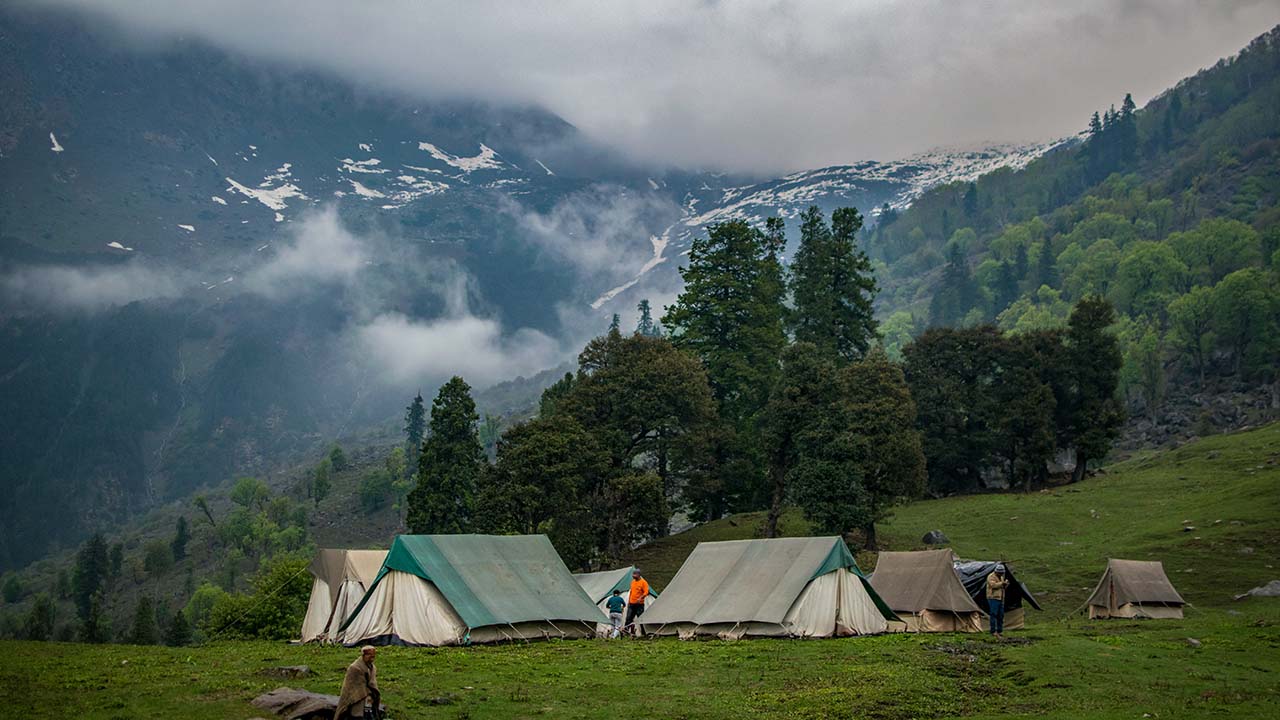 Camping offers a refreshing escape from the daily grind, allowing us to immerse ourselves in the serenity of nature.

It's not just about setting up tents and lighting campfires; it's an opportunity to disconnect from our screens and reconnect with the natural world around us.

What to Bring on a Camping Trip?
There are several categories of products to bring to camping: Shelter & Sleep, Furniture & Accessories, Food & Drink, Safety & Survival, and Hygiene & Personal Use products. We've compiled a list of camping products for each section.

Remember, the key to a successful camping trip is preparation. Tailor your gear list to the specific needs of your destination, the length of your stay, and the activities you plan to partake in. Happy camping!
Disclaimer: GiftHelper.ai uses affiliate links. We may earn a commission when you purchase from a site we link to at zero extra cost to you.
Shelter & Sleep
This category includes items like tents, sleeping bags, sleeping pads, and tarps. It's crucial to choose equipment suitable for the weather conditions you expect to encounter.
---
The UNP Camping Tent is a high-quality outdoor product that allows you to get closer to nature at a lower cost.

It provides a spacious living space with near-vertical walls, a rectangular floor plan, and ample ventilation.
---
If you prefer to pack lightly, this Life Tent is a compact, weatherproof 2-person tent that keeps you warm and dry in wind, rain, and snow, making it ideal for camping, hiking, or car survival kits.

It is lightweight, packs down small, and sets up quickly, and also includes a 120-decibel whistle and 20FT paracord for emergencies.
---
This military compression sack is perfect for backpacking trips, as it allows you to save crucial space by reducing your sleeping bag to the smallest size possible.

It is space-saving, fits all your essentials, made of military-grade material, withstands any weather, and is the ultimate outdoor companion - making it the perfect choice for backpacking, camping, and other outdoor adventures.
---
This sleeping pad provides superior support and comfort for longer camping trips.

With a 4.5-inch thickness and 8.5-pound foam filling, it offers unparalleled support for a cozy sleep.

---
For light packers, this ultralight camping pad is perfect for those looking for comfort and convenience on their outdoor adventures.

With a hexagon design that supports all pressure points and a compact size, it's easy to carry and provides superior support for a good night's sleep.

Plus, it's waterproof and comes with a storage bag, repair kits, and a multipurpose inflating bag for all your outdoor needs.
---
The Original Puffy Blanket is a lightweight and portable option for camping, with a beautiful design and very durable.

Made from 100% polyester with insulation, this warm and cozy blanket is both machine washable and water-resistant, making it convenient and durable for outdoor use.
---
This camping hammock is made of durable nylon material, ensuring a comfortable and relaxing experience whether you're camping, hiking, or enjoying your backyard.

Lightweight and compact, it's easy to set up and take with you on your outdoor adventures.
---
We all hate mosquitoes, don't we? A bug net like this is a must-have for camping, blocking out mosquitoes, flies, and insects for a peaceful night under the stars.

Made with premium, superfine mesh, it offers excellent breathability and durability, and conveniently packs down into the included carrying bag for easy transportation.
Furniture & Accessories
Think portable chairs, tables, and lanterns. These items enhance the camping experience by providing comfort and convenience in the great outdoors.
---
The ALPHA CAMP Oversized Camping Folding Chair is a convenient and reliable outdoor seating option.

It is easy to set up and fold in seconds, and can be easily carried and stored.

With features such as a drink holder and side pockets, it enhances comfort and convenience during outdoor activities.
---
This table features a unique hinged design connection, ensuring durability for years to come.

Built with ultralight aerospace-grade aluminum alloy, it is waterproof, corrosion-resistant, and easy to clean. It takes very little space because it's foldable too.
---
Make your site friendlier with this welcome sign.

Made of high-quality wood, it is durable and won't fade, making it an ideal decoration for various occasions.

And once at home, use it to beautify your home and remember those nice camping moments.

---
The Ultra Bright lantern provides up to 1000 lumens of 360° glow, making it perfect for power outages, emergencies, or outdoor use.

With four lighting modes and dimmable settings, this lantern offers versatility and long-lasting performance of up to 12 hours.

Additionally, it is water-resistant, features two-way hanging hooks, and even has a removable cap for use as a ceiling light.

---
This is a deluxe lantern with 46 LED bulbs that deliver an impressive 1800 lumens of brightness.

It is rechargeable, with a built-in 4400mAh battery that can last up to 12 hours, water-resistant and features 4 light modes, including a flash mode, with adjustable brightness.

It also can also be used as a power bank for your smartphone or tablet in case of emergencies.
Food & Drink
Beyond just bringing food, consider items like portable stoves, coolers, water filters, and utensils. Proper planning in this category ensures you remain well-fed and hydrated.
---
Introducing the MalloMe 10-Piece Cookware Mess Kit, a compact and portable cooking set that allows you to enjoy warm and delicious meals even in unfavorable weather conditions during your camping or outdoor adventures.

This travel-friendly kit includes a pot and pan, BPA-free bowls, a spork, a spoon, and a wooden spatula, ensuring you have everything you need to cook and serve your meals.

---
Cooking outdoors may be daunting because we're lacking the commodity of our hose. This will give you great ideas for outdoors cooking!

This comprehensive cookbook is the ultimate guide for Traeger grill owners, offering a wide variety of recipes and tips to help you achieve perfect grilling results every time.

---
If you're a fan of sandwiches like me, you'll love the Large & Versatile Cast Iron Pie Iron.

It's double the size of regular sandwich makers, making it perfect for large and delicious food, or just cooking two sandwiches at the same time.

It's portable and easy to clean, making it ideal for camping trips or picnics.
---
This portable cooler backpack is perfect for outdoor activities such as camping, hiking, hunting, and fishing.

It can be easily folded up for convenient storage and transportation, and functions as a backpack, insulated cooler bag, and chair all in one.

Its durable design and ample storage space make it a great gift for any outdoor enthusiast.
---
The Coastal Xtreme Series Marine Cooler from Coleman is a versatile and durable cooler that is perfect for outdoor activities.

With its various sizes and features such as ice retention for up to 5 days, cup holders, and leak-resistant channel drain, it is designed to keep your drinks and food cool and accessible while enjoying your favorite outdoor adventures.
---
Introducing COLETTI, the premium outdoor coffee company that believes in bringing the same quality coffee experience to your outdoor adventures as you have at home, without the need for electricity or a Starbucks nearby.


Safety & Survival
This category is all about preparedness. Items can include first aid kits, multi-tools. Compasses, maps, and weather radios too, but those are integrated into today's phones. It's always better to be over-prepared than under, especially in remote locations.
---
This is a must-have first aid kit that contains 100 pieces of hospital grade medical supplies, such as bandages, gloves, gauze pads, and more.

It is certified to meet global standards and comes in a compact and durable case, making it imprescindible for safety for various outdoor activities.
---
If you must be connected all times, the Nuynix solar charger is a safe and portable option for quickly charging your devices using the sunlight.

With a capacity of 38800mAh, this power bank can charge multiple devices multiple times, making it a reliable option.
---
The Sahara Sailor clear water bottle is designed to help you stay hydrated throughout the day with its convenient time reminder and 32oz capacity.

Made from BPA-free Tritan material, it is leakproof, easy to open with one hand, and suitable for both warm and cold beverages.
---
Yes, the LoGest Prepper Supplies Portable Water Filter Straw is designed to purify water from various sources, making it safer to drink.

It's a compact, 7.5-inch-long straw built for fresh, pure drinking water on the go, with the power to eliminate 99% of harmful bacteria and improve taste by reducing chlorine and odors.
---
Quantfire's Fire Starters offer a swift, safe way to ignite your flames.

Made from 100% natural sawdust, they ensure no harmful taste and can burn for up to 10 minutes.

Perfect for grills, fire pits, and campfires, they're a must-have accessory for every outdoor enthusiast.
---
Instantly add a pop of color to your campfire and keep the good times rolling with these magical fire packets.

Safe for both indoor and outdoor use, these colorful flames will bring joy to your camping adventures and keep the kids entertained for hours.
---
The Splash edition of UNO is perfect for happy campers who love playing games by the water.

With durable, waterproof cards and a handy clip, it's easy to bring the fun to the beach or campsite.
Personal Use & Memorabilia
Stay dry and comfortable during your outdoor adventures with our waterproof rain poncho jacket.

Made from 100% polyester, this jacket features heat-sealed seams for ultimate waterproof protection.

It includes a full-length zipper, adjustable hood, and elastic cuffs for added convenience, and comes with a color-matched storage pouch for easy packing.


---
ZMART camping socks are the perfect accessory for proud campers, adding fun and color to your outdoor adventures.

With a cozy and well-made design, these socks will bring joy, laughter, and love to your everyday camping life.
---
This towel is a compact and lightweight microfiber towel that comes in various sizes and vibrant colors, perfect for all your outdoor and sports activities.

It is fast drying and absorbent, made with high-quality materials for a soft and comfortable feel on your skin and face.
---
Upgrade your camping experience with our Camper Kitchen Towels Set.

Featuring funny quotes and adorable camping-themed designs, these towels are both functional and stylish, making them the perfect addition to your happy camper setup.
---
The 14-in-1 SOS kit is the perfect gift for the camper in your life.

With essential tools like a flashlight, compass, and emergency thermal blanket, this compact and lightweight kit ensures they are prepared for any outdoor adventure.

---
Personalized gift are always the most loved ones!

Get the name of your favorite camper on the mug and surprise them on your next camping trip with this gift.

This personalized enamel mugs are not only a beautiful and classic outdoor accessory, but also incredibly durable and built to withstand all your adventures.
---