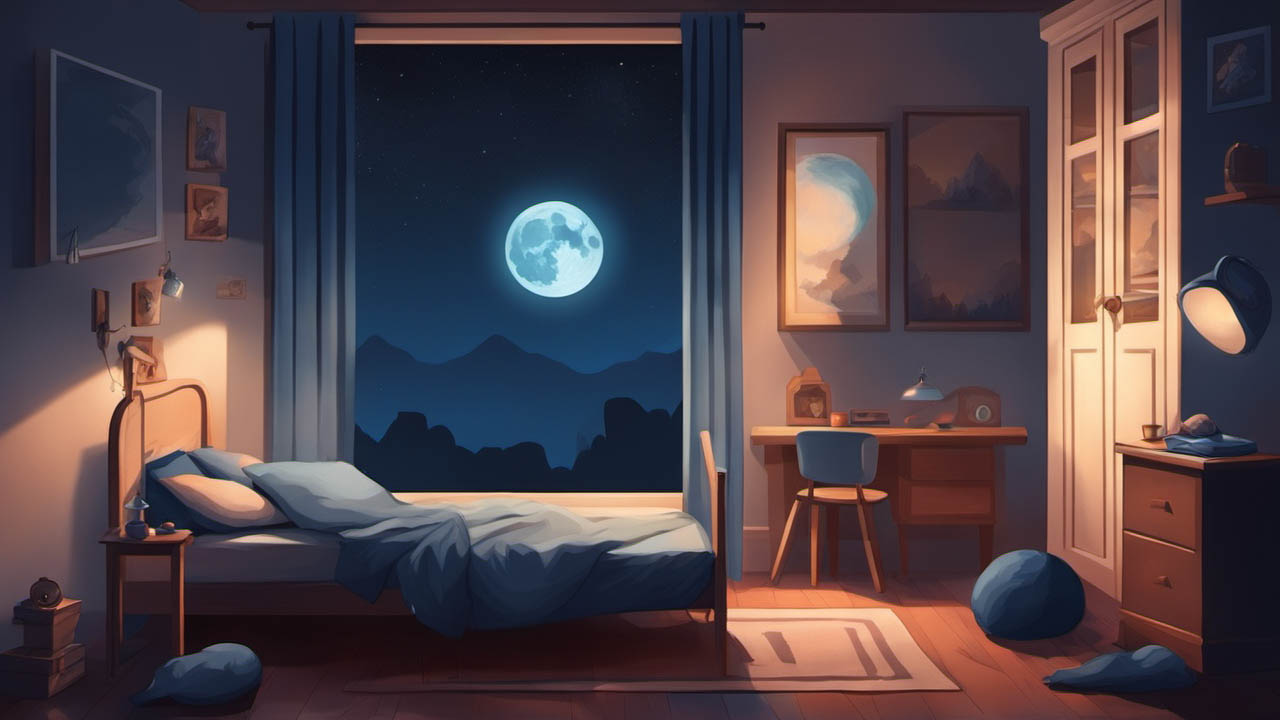 While nothing beats the joy of a goodnight kiss, the transition to independent sleeping for kids can be made even more special with the right kind of companionship. This is where our top 30 cutest LED bedside lamps come into play.

These cool kids' lamps, designed as multicolored, charming animals and objects, not only provide the necessary illumination but also serve as comforting friends to aid the process of falling asleep.

What is the best light color for sleep?
Recent research evidence highlights red light as the most effective color for promoting sleep, given its ability to enhance melatonin production, paralleling the effects of darkness. On the contrary, blue light has been found to suppress melatonin production, potentially disrupting sleep patterns and circadian rhythms.

Most of the models presented are multi color night lights, kids friendly and come equipped with a dimming function, offering versatility as either bedside LED lamps or interactive LED night lights for kids. By combining the reddish hues with automatic dimming, these lamps can help improve the quality of sleep for your kids, or even for you!

We've categorized these cute bedside lamps by type for your convenience in browsing.
Disclaimer: GiftHelper.ai uses affiliate links. We may earn a commission when you purchase from a site we link to at zero extra cost to you.
Cute dog lamps
Choosing the best night light to gift can be challenging. The good news is that you can never go wrong with a dog night light! These adorable puppies serve as charming and fun night lights, providing a long-lasting companion and colorful dreams.
---
USB rechargeable
Long working hours (about 6 hours)
Non-toxic, harmless and BPA free
Soft, pinchable, and sturdy
Dimmable, 30/60 minutes timer options
2700K-6500K, adjustable brightness
Portable and wireless
Includes remote control and USB cable
---
USB rechargeable
16 color changing capabilities
Made of 100% baby-safe silicone
Dimmable, 30/60 minutes timer options
Portable and wireless
Includes remote control and USB cable
Comes with a perfect gift box package
---
USB rechargeable battery
Puppy-shaped design
Nine different soft colors
12 hours of continuous use
High-quality, heat-resistant silicone material
Withstands rough handling
Remote control operation
3 auto-shutoff options (15, 30, 60 mins.)
Includes remote control and USB cable
Cat lamps
🐱 Cute cat lamps are also another staple favourite among children. They can be squished (something not recommended with real cats), played with, or used as night lights for kids.
---
16 static colors and 4 loops
In-built rechargeable battery
Soft, safe silicone material
Soothing night light
Ideal for cat lovers and kids
Auto-off after 3 hours
Controlled via remote
Includes remote control and USB cable
---
Offers 9 soft light options
High-quality, soft silicone body
Tap control functionality
USB-rechargeable battery
Features sleep timer function
Remote control included
Color-changing modes
Washable and portable
Long battery life
---
USB rechargeable
16 color changing capabilities
Remote control enabled
Includes timer function
Super soft material
Safety night light for kids
Ideal gift for kids
Bunny lamps
Bunnies are undeniably cute with their soft fur, twitchy noses, and floppy ears. While nothing comes close to the real thing, these bunny-themed dimming LED night lights are quite adorable too!
---
Touch or remote control
Safe for newborn babies
Timer dimming feature
Bright enough for reading
Kids-friendly design
Great gift for birthdays
Rechargeable
Adjustable brightness
Made of BPA free silicone
---
Cute designs for kids
Made of ABS+Silicone
Different sizes available
Brightness adjustment
Timer (Auto-off) available.
Battery powered with long life.
Rechargeable
Various color temperatures
---
Various cute designs
Made from BPA free silicone + ABS
Different lighting modes
10 hrs battery life
Touch or remote control
Brightness control
Sleep timer
USB rechargeable
Suitable for all ages
Chicken lamps + other birds
The chick lamp is the best baby night light: soft, squishy, cute, and round. However, the other two contenders are also very charming night lights that will delight any child.
---
Dimmable lamp with easy operation
Cute hatching chick design
Soft silicone, baby-safe material
Smart touch controls
Designed with anti-blue light LED
Wireless with USB charging
Up to 300 hours of dim light
8 hours of extra-bright light
Swings and wobbles for interactive fun
---
BPA-free washable silicone material
Soft to the touch
Handheld size for easy portability
Suitable for bedroom, study, baby room decor
Perfect gift for kids, girls, and duck lovers
Ideal for all genders and ages
---
Unique and fun Ninja Duck design
Colorful RBG lighting
Perfect for children's desks or study areas
High-quality, durable materials
Safe for children to use
Compact and easily portable
Horsies lamps
Horses embody the very essence of nobility with their strong, graceful strides and compassionate eyes. Unicorns, as mystical creatures, symbolize purity, grace, and magical allure.

These horse lamps might not capture their noble stance, but their colorful night lights certainly exude a form of magical allure!
---
Portable and child-friendly size
Soft and safe silicone material
Round plastic bottom for injury protection
Suitable as a nursery light
Perfect light intensity for nursing and diaper changing
Cute design, loved by boys and girls
Available in pink and blue options
Comes in a sturdy, gift-ready box
---
Ideal for kids afraid of the dark
Original light color patchwork enhances visual ability
Suitable for newborn girls and girls aged 1-12
Tap or squeeze to switch colors and change brightness
Highly durable and recovers quickly from pats and rubs
One charge can last up to 12 hours in bright light and up to 50 hours in dim light
---
Unicorn design loved by kids
16 rainbow colors
Ideal as gifts for girls aged 1-10
Soft and cuddly pillow pal design
Can serve as nursery night light with warm, soothing light
Can also be used as an atmosphere lamp
Strong quality promise and 3 years of after-sales service
Dinosaur lamps
When it comes to animal night lights, dinosaurs hold a special appeal. Their towering heights and mighty roars tend to spark children's imaginations, making this type of LED night light a likely favorite as a portable night light wherever they go.
---
Color-changing lamp for soothing effect
Easy to use with a tap-control feature
Both decorative and functional
Ideal for children's bedrooms, play rooms, bathrooms, etc.
Equipped with long-lasting LED
Cute brontosaurus design for playful fun
Suitable for any room in the house
---
Color changing for a soothing effect
Easy operation with a tap for color selection
Decorative and functional soft glow night light
Ideal for children's rooms, play rooms, and bathrooms
Long-lasting LED for extended use
Suitable for children's spaces and adult living areas
---
Toy-grade, BPA-Free silicone material
No sharp edge, harsh light, or eye harm
Creates a safe & comfortable atmosphere
Portable USB Rechargeable with 1200mA battery
More than 12 hours of light up time
Sensitive tap control for color changes
White, red, blue, green and 7 color rotating mode
Other animal lamps
There are a few more animals which kids love. These cool night lights are guaranteed to become one of your favorite children's lamps.
---
Offers 9 soft light options
Made from soft, high-quality silicone
Heat-free and easy to clean
Simple tap control mechanism
USB-rechargeable, perfect for travel
Sleep slow flow or blinking modes
Adjustable brightness and sleep timer
Long-lasting battery life up to 72 hours
---
Remote controlled & tap control
Silicone and ABS material
Color and brightness control
USB rechargeable
15/30/60 minute auto-off timer
Safe as a toy
Suitable for all age groups
Soft, squishy, washable texture
---
Tap control features
Soft, gentle lighting
Portable and rechargeable
Included remote control
BPA Free Silicone + ABS material
Useful for nighttime reading, feeding
Inspires children's imagination
Serves as sleep aid with timer
---
100% silicone LED nightlight
Features 7 color cycling mode
Interactive tap control
Color changing for imagination
BPA-free, FDA-certified silicone
Adjustable dim option
60 minute auto-off timer
Rechargeable and portable
15hr battery life
---
Battery night light
Offers soft, gentle light
Inspires children's imagination
Ideal for nursery needs
Features tap control with color modes
Rechargeable via USB
Includes remote for ease of use
Made of BPA-free Silicone+ABS
---
Cute shark-shaped night light
Breastfeeding and diaper change aid
Large capacity battery, 10-hour runtime
Helps kids overcome fear of darkness
Soft, squishy silicone material
Features 7 color breathing modes
Portable size for travel
Made of durable ABS+Silicone
Non-animal cute lamps
When it comes to cute night lights, animals take the cake. However, there are still some rechargeable night lights here that can look just as adorable as any animal light.
---
Child-friendly, single button operation
Retro-modern toaster design
USB rechargeable, long-lasting
Excellent, versatile gift
Fits multiple décor settings
---
USB rechargeable
Warm white & RGB color options
Portable, compact size
Adaptable brightness levels
Includes a timer function
---
Rechargeable, lasts 10 hours
Dual light modes
Adorable cloud design
Soft, unbreakable material
Safe in-bed companion
7 color modes
Made from BPA free silicone
Includes a remote & timer
Personalized animal lamps
To conclude this post, let's look at a few bedroom night lamps that can be personalized. These are not toddler-friendly, and they aren't toys for play. They're more suitable for older kids, and just too adorable to ignore!
---
Personalised unicorn design
7 color settings
Suitable sensory light
Customizable design requests
Quick dispatch time
USB or battery powered
USB cable included
Brighter with USB connection
---
Personalized Kids' Night Light
Durable Acrylic Material
Dual Power Options: Battery/USB
Remote Control and Touch Switch
7 Colors Touch, 16 Colors Remote
Free Custom Engraving
LED Light Type
---
Custom Designed Acrylic Board
Available in 2 Sizes: Small/Medium
USB Powered Base
Unique, Personalizable Luminous Display
Complementary Blend: Acrylic and Wood
Ideal for Various Spaces
Responsive to Craftsmanship Concerns
---