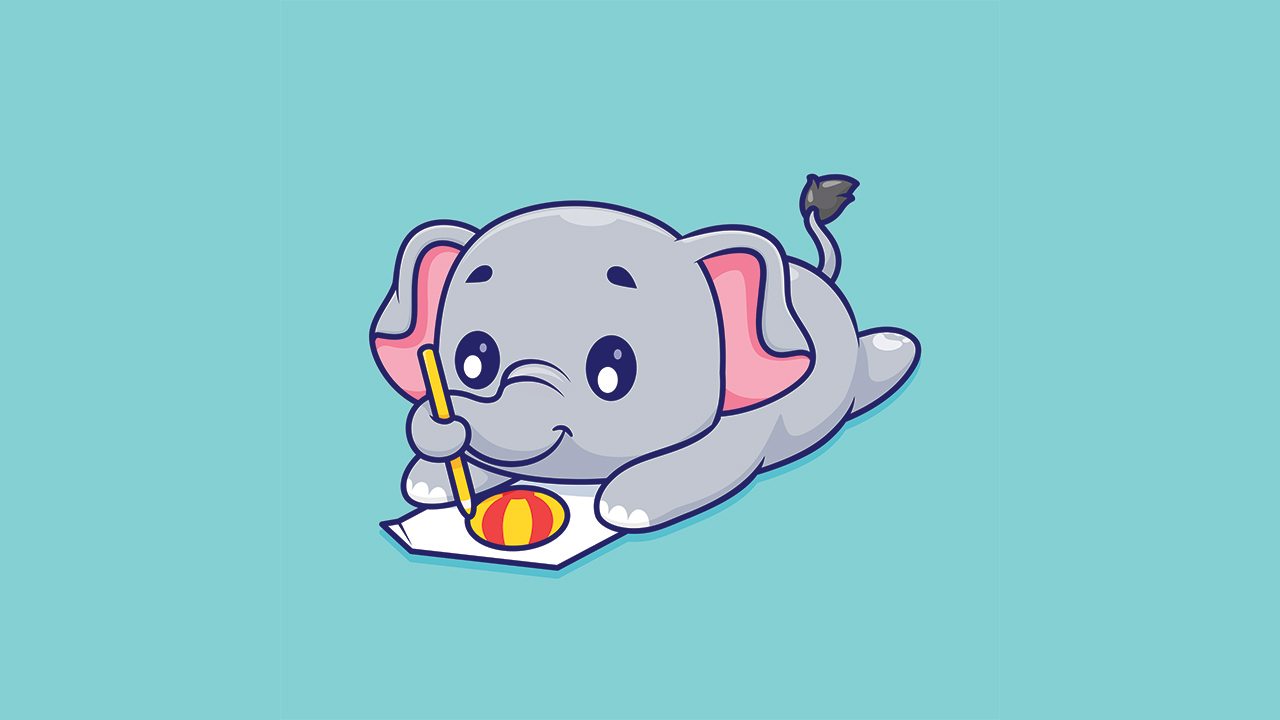 If you're searching for the perfect gift for the elephant lovers in your life, consider something that honors these majestic creatures' remarkable traits.

From their incredible social intelligence to their unparalleled empathy, elephants truly are the gift that keeps on giving when it comes to learning about emotional and social complexities.

For those who are fascinated by these animals, books or documentaries exploring their playful nature and curiosity make for educational and heartwarming gifts.

Disclaimer: GiftHelper.ai uses affiliate links. We may earn a commission when you purchase from a site we link to at zero extra cost to you.
Elephant Decor and Lighting
Presenting the Elephant Ceramic Plant Pots, a set of two versatile white pots crafted to resemble adorable elephants.

They are designed with draining holes, hence ideal for growing various plants, from flowers and succulents to herbs.

Additionally, these pots can also serve as containers for various small items.
---
This Elephant Solar Light Sculpture serves as a beautiful garden decoration for outdoor and indoor use.

Crafted in an East Asian design, the elephant's uplifted trunk symbolizes good luck.

The solar light feature lights up your pathway and adds warmth to your yard.

Its waterproof nature allows it to thrive in complex outdoor environments.

---
This engraved crystal elephant figurine is a symbol of great love, featuring a built-in LED colorful light at its base.

This figurine serves as an appealing home decor item and a nightlight, illuminating its surroundings with its six-regimes lightning mode and changing colors using the touch switch on the base.

Fashioned from high-quality K9 crystal and detailed with advanced 3D laser engraving, it's highly durable and retains its shine no matter the length of use.
---
A Night Lamp designed with a 3D Illusion elephant, intended to decorate and add a soft colorful light to children's rooms.

Its high-quality LED light source offers 16 colors changeable via a remote control.

The light is soft, flicker-free, and dimmable, making it safe and eye-friendly for kids.
---
A handcrafted, Himalayan Salt Lamp featuring an intricate ethnic elephant design.

This lamp benefits from the natural properties of 250-million-year-old Himalayan rock salt, providing a calming, amber glow and serving as a natural essential oil diffuser.

Perfect for creating peaceful ambiance and promoting wellness at home.
---
This elephant-themed storage basket is a versatile solution to your organization needs.

With room for kids' toys, laundry, and more, it also features easy grip handles on both sides for convenient moving.

Foldable and space-saving, this large storage basket is functional and adds a touch of whimsy to any room.
---
This glazed ceramic ring holder, shaped in an enchanting elephant form, promises not only organization but also a touch of luck, protection, and strength traditionally associated with elephants.

Place it by the sink to hold rings while washing hands, or utilize it as a nightstand accessory for safekeeping rings during slumbers.
---
The Elephant Ring Holder is a beautiful jewelry organizer featuring a lucky elephant and a chakra crystal tree.

This high-quality glazed ceramic dish is not only a functional platform for storing rings, necklaces, and bracelets, but also a modern decoration that energizes your room and attracts positive energy.

It's an useful gift full of significance, bringing good luck, protection, and strength to its recipients.
Elephant Toys and Accessories
A delightful, cozy plush elephant toy from the Twinkle Toes Collection.

It's baby's best friend, machine washable and ready to bring joy to your little one.
---
This plush, elephant-themed stuffed animal is not just a cute companion, but also a comforting presence due to its weight and size.

Perfect as a decoration or to accompany you to sleep, it's a great gift for many occasions like birthdays.
---
This fantastic faux leather crossbody purse is designed not only to carry your daily essentials but also your smartphone, regardless of its dimensions.

The main features of this purse include a unique elephant-adorned front pocket, and a convenient cell phone holder that accommodates all modern smartphones.

Besides, it offers enough space for your wallet, keys, headphones, passport, tickets, and other personal belongings.
---
Experience the charm of the JIUSHUN Elephant Lover Keychain, a perfect gift for those who adore elephants.

Crafted from high-quality 316L stainless steel, it's safe for sensitive skin and carries an engraved inspirational message.

It serves as a thoughtful gift for any occasion, promising a timeless impression.
---
A stress-free, hypo allergenic stainless steel keychain featuring an elephant charm and a rectangle reading 'Never forget how strong you are'.

A symbol of strength and inspiration, ideal for any elephant lovers or those needing a reminder of their own power.

Comes beautifully packaged and ready for gifting.
---
A charming plush elephant keychain, designed to add a touch of whimsy to everyday items like backpacks and keys.

Made from top quality, soft and fluffy materials, this keychain is not just decorative but functional, holding many keys.

It serves as a stylish accessory and a child's huggable buddy, perfect as a gift for any occasion.
Elephant Drinkware
This Elephant Shaped Mug is a unique, handmade pottery masterpiece that stands out with its unusual design.

Fired at about 2200 degrees, it's microwave and dishwasher safe.

Each piece varies slightly, highlighting the charm of its handmade nature.
---
The Punny Elephant-Themed Mug is a high-quality ceramic item featuring a humorous, elephant design.

It's perfect for those who enjoy a bit of fun and humor, wrapping a quick joke and a charming elephant design all in one.
Elephant Books & Office
A unique and stylish fountain pen featuring an auspicious elephant design.

Its quality steel construction ensures durability, while the hand-polished nib offers a comfortable writing experience.

This pen blends fashion and practicality, making it an excellent choice for a gift.
---
The Elephant's Uplifting Tale is an enchanting children's book, that serves as a nurturing fable with illustrated life lessons.

It tells the story of a brave elephant embarking on a journey to find where elephants live, discovering courage, support, and magic along the way.

Included is a special author's note to provide added motivation and encouragement to young readers.
---
This Educational Kids' Book is a gift to little elephant fan, combining education with entertainment to provide a comprehensive understanding of elephants.

It's filled with easy-to-understand writing, real-life images, and numerous fascinating facts about elephants, appealing to kids 6 years and up.
---
Explore the rich world of elephants with this Level 1 co-reader book by National Geographic Kids.

Encourage interactive learning with fun facts and exciting photos, perfect for both children and adults to enjoy together.
---
This book, 'Secrets of the Elephants', serves as an enlightening companion to a National Geographic television series.

It takes the readers through the fascinating lives, remarkable intelligence, and unique behaviors of elephants, coupled with stunning photography.

It also highlights the vital efforts from researchers and conservationists to protect these majestic creatures, offering a deeper understanding into elephant culture.
Elephant Apparel and Wearables
Have fun gifting these adorable dolphin-themed slippers.

They are made with a plush foam sole for maximum comfort, perfect for moves around the house or quick errands outside.

Not to forget, their unique design is sure to bring a smile to any face, making them an excellent gift to lighten up someone's day.
---
Snoozies Slipper Socks are a perfect blend of comfort and personality, designed with cute and stylish designs.

These fuzzy slippers, made of 100% polyester, are lined with a soft fleece Sherpa lining offering warmth during chilly winters and cool summers.

Built with tiny grippers on the soles for safety on slick surfaces, they make for perfect in-house shoes.

Machine washable, these slipper socks maintain their quality, offering a fresh-like-new pair after each wash.
---
This is a pullover hoodie featuring a unique and colorful abstraction of a baby elephant blowing hearts in shades of pink, purple, and blue.

It makes the perfect gift, especially for those who love baby animals or for events like World Elephant Day, International Elephant Day and National Elephant Appreciation Day.
---
Delight in the joy of gifting with this Personalized Birthday Elephant Shirt.

Perfect for children celebrating their special day, this shirt features an adorable embroidered elephant, along with their name and age.

It's not just a birthday gift - it's a memorable keepsake.
---
This long sleeve hoodie for women is made from high-quality Polyester and Spandex, making it breathable, lightweight, and super comfortable to wear.

It features a zipper closure and a large kangaroo pocket, ideal for storing small items.

It's not as thick as a sweater but perfect for fall and early winter.
---