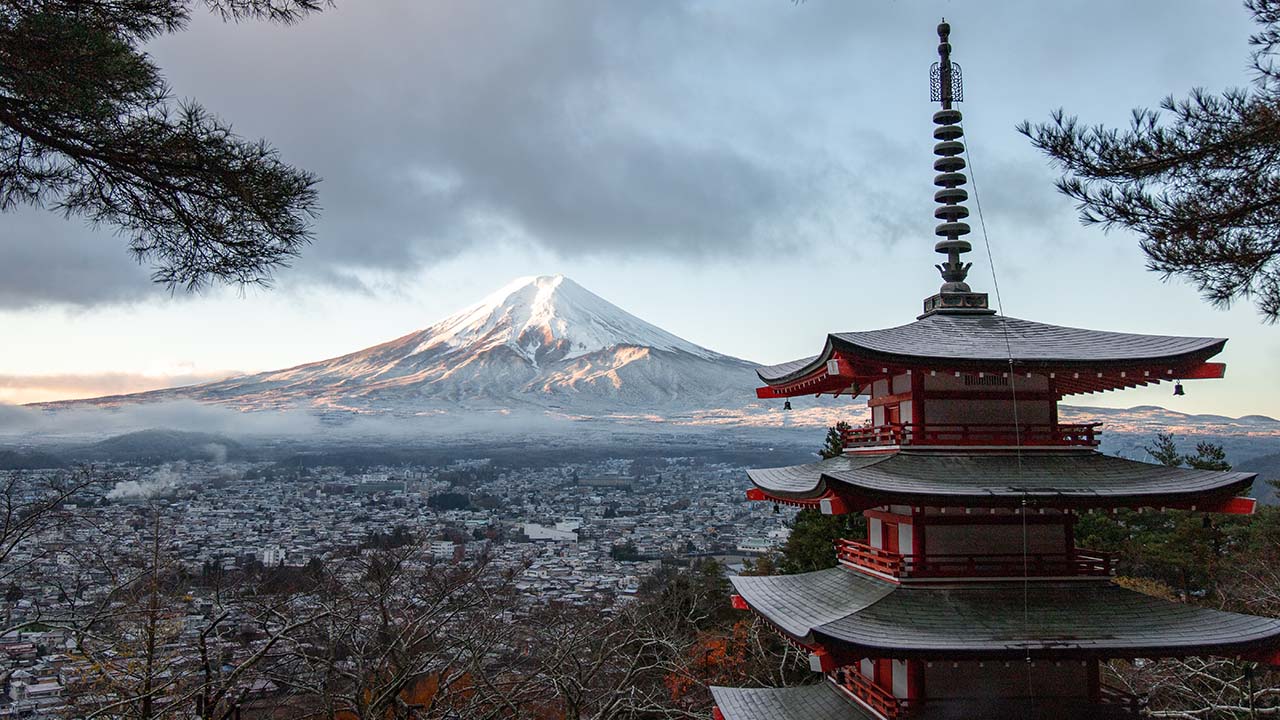 Japan is one of the most ancient and influential cultures in the world, with a rich history stretching back millennia.

Its unique blend of tradition and innovation is evident in everything from its architecture to its technological advancements.

Gifts for people who love Japan
Japan is also a mysteriously attractive culture, drawing many to its enchanting traditions and modern marvels alike.

If you have a friend who is a fan of Japan, this is a comprehensive list of gifts that would surely delight them.

Along with some gifts, there's a short description that explains their importance in Japanese culture. This will give you a glimpse into why they're a special treat for someone who appreciates Japan.
Disclaimer: GiftHelper.ai uses affiliate links. We may earn a commission when you purchase from a site we link to at zero extra cost to you.
Home & Decor Japanese Gifts
Cherry blossom trees, or "sakura," hold profound cultural significance in Japan, symbolizing the ephemeral nature of life and serving as a timeless reminder of beauty, renewal, and impermanence.

This 18" Bonsai Tree Light is a beautiful room decor gift. It features 36 LED crystal-like cherry blossom petals, providing just the right amount of light to illuminate your space without being overwhelming.

The branches, made of soft copper wires, are flexible. You can easily shape and customize them according to your preferences, adding a unique and natural touch to your home.
---
These charming, hand-painted flower-shaped lights offer a unique touch that machines cannot replicate. These battery-operated lights can be easily shaped and placed anywhere.

They come with a remote control featuring multiple programs. They're safe for use around children and pets as they don't get hot and are resistant to damage.
---
Japanese iron wind chimes are a cherished summer tradition in Japan. Renowned for their resonating and calming tones, these chimes serve not only as decorative pieces but also carry symbolic significance.

They are believed to ward off evil spirits and evoke the soothing essence of a cooling breeze on a hot day, making it a nice symbolic gift from Japan.

Crafted in Japan by skilled ironware artisans, this chime includes a paper hanger that acts as a wind catcher.
---
The aroma of cherry blossom, or "sakura," captures the ephemeral beauty of spring in Japan, symbolizing the transient nature of life.

The Bath & Body Works Japanese Cherry Blossom candle is a limited edition 3-wick candle, blending delightful scents of Japanese Cherry Blossom, Mimosa Petals, and Cedarwood.
---
Introducing our premium scented candles designed to envelop your space in a soothing and energizing aroma, fostering tranquility and relaxation.

Crafted from 100% natural soy wax and infused with essential oils, these candles offer a pure and safe burn for up to 60 hours, setting a serene ambiance in any room.
Japanese Books & Learning Materials
---
---
---
---
---
Fashion & Accessory Gifts From Japan
Gift this personalized necklace with your friend's name, available in a range of materials and colors, for birthdays, anniversaries, and other special moments.

Every purchase is elegantly packaged, ready to become the perfect Japanese-themed gift.
---
Kimonos are traditional Japanese garments, characterized by their intricate designs, long sleeves, and T-shaped structure.

In Japanese culture, they hold significant importance, symbolizing not only elegance and beauty but also representing various life milestones, ceremonies, and the deep-rooted history of Japan.

The BABEYOND Kimono Robe is a meticulously designed and beautifully detailed piece of clothing. Made from soft fabric and available in various patterns, it makes for an ideal gift from Japan for her.

---
Japanese fans are traditional folding fans made of paper or silk and mounted on slender bamboo spokes.

For women in Japan, these fans are not only functional tools for cooling but also significant accessories in traditional dance, ceremonies, and fashion, embodying elegance, grace, and cultural heritage.

This handmade folding fan is made of silk fabrics and premium bamboo frames, and it's ideal to pair with the Kimono, another great Japanese gift for women.

---
Japanese aprons are traditional waist aprons made of durable cotton and characterized by their rectangular shape and thick straps that wrap around the body.

Historically worn by merchants and craftsmen, these aprons have become emblematic of Japanese household attire, symbolizing diligence and the warmth of domestic life.

This is a useful gift from Japan for those passionate about their culinary and domestic traditions.
---
This product features a sleek and durable design with tempered glass and stainless steel, ensuring long-lasting quality.

The numbers of the watch are in Japanese form, making it a very special gift for any Japanese culture lover , or for anyone trying to familiarize with the Japanese numerals.
---
Introducing the Industrial Kanji Crew Socks from MFCT. A Japan gift inspired by hip-hop culture and Japanese kanji design, these high quality 100% cotton crew socks offer a unique and eye-catching look.

They provide maximum comfort and durability with a snug-fitting tube, compression arch and leg support, and a cushioned bottom.

Perfect for any urban setting, these socks are machine washable and suitable for all seasons and activities.
Japanese Crafts & Hobbies
Samurais were the elite warrior class of feudal Japan, renowned for their martial skills, strict code of honor, and pivotal role in shaping Japanese history and culture

Made with exquisite attention to detail, this durable resin piece showcases Japanese dragons, a damaged demon mask, and intricate armor patterns.

A perfect Japanese gift for history enthusiasts and fans alike, it would make a great addition to any home or office, captivating the attention of guests with its realistic design.

---
This cute house is not only a collectible building or home decoration, but also a DIY assembly project suitable for people older than 14 years.

The materials are of high quality, and the furniture and wooden pieces are precisely cut to fit together correctly.

With realistic LED lights, plants, ornaments, and cleverly designed furniture, this set is well worth the price for those seeking pleasure in crafts and miniatures.
---
Paper Nano is a small-scale paper crafting kit that allows you to construct flawless, highly-detailed replicas of world-famous landmarks like the Byodo-in Buddhist temple near Kyoto, Japan.

With precision laser cutting technology, you can fold and manipulate the paper components to create stunning reproductions that fit perfectly in the included display shadow box.

A nice Japanese gift for ages 12 and up, each kit comes with detailed instructions for easy assembly.
---
Japanese Zen gardens are meticulously designed landscapes that evoke tranquility and meditation, embodying the principles of Zen Buddhism through the careful arrangement of rocks, gravel, and sparse vegetation.

Not everybody can have a garden nor the time to curate it, so this compact and complete desktop sand garden kit is ideal for those with limited space.

It aids relaxation and fosters peaceful energy, while also promoting mindfulness and relieving anxiety.

---
Bonsais are miniature trees cultivated through meticulous care and pruning, embodying the Japanese art of capturing the essence of nature in a small, harmonious form.

This Grow Your Own Bonsai Kit offers a complete package that provides the joy of watching your own bonsai tree grow from seedlings to fully-formed trees.

Everything you need to succeed is included in the kit, including detailed instructions.

---
Origami, the intricate art of paper folding, is a revered Japanese tradition that transforms simple sheets of paper into complex sculptures, reflecting the culture's appreciation for detail, precision, and aesthetic beauty.

A complete set of crafts that includes 300 origami square sheets and 50 Japanese pattern sheets, as well as 25 illustrated books with step-by-step instructions.
---
Mahjong, (the Japanese version is often called "riichi mahjong") is a popular tile-based game with distinct rules and strategies, reflecting the nation's love for intricate games of skill and chance.

This Japanese Mahjong Set, an ideal gift for game lovers, features "Riichi" scoring rules and "Dora" tiles for a challenging and exciting gameplay experience.

The set includes 144 large size Riichi tiles made of scratch-resistant melamine, housed in a compact vinyl case for easy storage and organization.
---
Anime is a distinctive style of Japanese animation known for its rich storytelling, diverse genres, and unique artistic expressions. It has garnered a global fanbase and has significantly influenced pop culture.

This poster allows you to discover a wide range of anime genres. Track your progress and challenge your anime buddies using this colorful poster featuring 100 beloved series and films.

Scratch off the golden layer to reveal unique illustrations of main heroes or fun symbols. The supreme print quality and premium packaging make this poster perfect for gifting to your otaku friends.
Japanese Cuisine & Dining
The Fuji Merchandise Japanese Porcelain Multi-Purpose Bowl Set includes 4 bowls with adorable Maneki Neko Lucky Cat designs.

Made in Japan, these bowls are not just functional but also a charming gift option.
---
This Japanese tea cup set is handmade by skilled craftspeople, showcasing minor variations in finish that highlight the crafting process.

With a handleless design, these ceramic cups provide a unique and enjoyable way to savor your favorite hot drinks like matcha tea, green tea, and more.
---
This Japanese Sake Set includes 1 Sake bottle and 4 Sake cups. The bottle can hold up to 6.76 oz, while each cup holds up to 1.69 oz.

The ceramic cups feature a white flower pattern on a black background and a cherry blossom design, adding an elegant touch to any occasion.

Recognized as a classic Japanese gift, this set is perfect for those who appreciate Japanese culture.
---
The Japanese Cookbook for Beginners is a user-friendly guide introducing the basics of Japanese cuisine, helping users create both traditional and modern dishes.

With over 70 delicious recipes, easy-to-follow instructions, and suggestions for ingredient substitutions, this cookbook is ideal for beginners exploring the art of Japanese cooking.
---
This ramen bowl set includes 4 bowls with different patterns, spoons, chopsticks, and dual-use chopstick racks, making it an excellent choice for everyday family use.

The large capacity and beautiful design of the ceramic bowls elevate the dining experience, making them a wonderful Japanese gift for holding various types of food.
---
This Japanese Omelet Pan Set comes complete with 1 omelet pan, 1 lid, and various utensils.

Its nonstick coating ensures easy cooking and cleaning, while its compact size offers versatility in making dishes like tamagoyaki, sandwiches, salmon, and more.
---
This Kutani ware is a highly regarded traditional Japanese craft known for its exquisite porcelain artwork.

Made from ceramic in Ishikawa Prefecture, Japan, it comes with an exclusive paper box.
---
In Japanese culture, chopsticks ("hashi") are more than just eating utensils. They embody etiquette, tradition, and craftsmanship, reflecting the nation's appreciation for detail and mindful living.

These 22.8cm long chopsticks are easy to use and clean. Their non-slip design ensures a comfortable grip, even for beginners, and they are dishwasher safe.

The minimalist Japanese style and frosted texture prevent food from slipping, while the unique design and colors, paired with the included gift box, make them an excellent gift option for any occasion.
---
The Japanese appreciation of tea is deeply ingrained in their culture, encapsulating rituals, mindfulness, and a profound respect for the intricate art of tea preparation and consumption.

Matcha is a finely ground, vibrant green tea powder made from specially grown and processed tea leaves. It has traditionally been consumed in Japan and used in Japanese tea ceremonies.

This set combines the best of both traditions, making it an ideal gift for those who appreciate Japanese culture.
Sushi
---