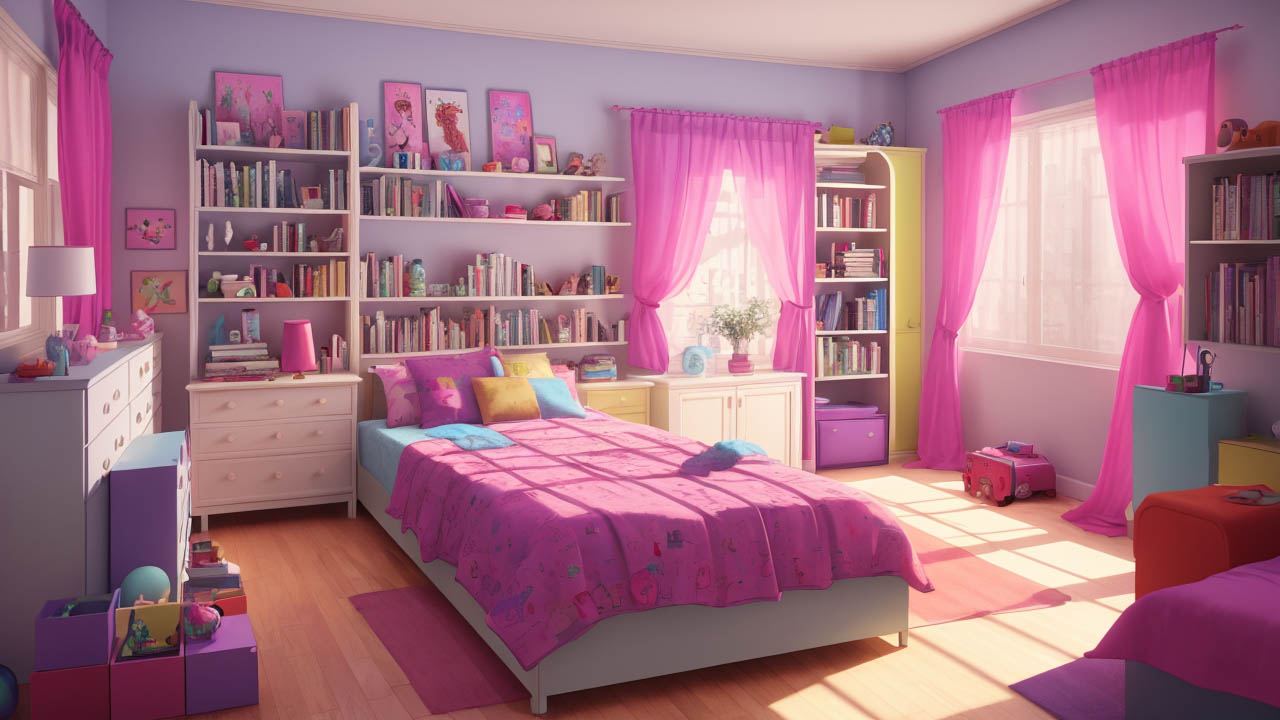 Duvet covers play a pivotal role in bedroom décor. They enable personal expression, transforming ordinary rooms into comfort zones reflecting individual tastes.

Kids duvet covers are more than just bedding; for children, duvet covers can reflect their passions, helping turn their bedrooms into magical spaces filled with their favorite themes and characters.

Additionally, the myriad of patterns and colors available provides endless possibilities for creating diverse aesthetics.

What are bed duvet covers?
A duvet cover is a protective layer that encloses the duvet, typically featuring a zipper or buttons. It safeguards expensive duvets and comforters from wear and dirt.

Especially for kids' rooms, duvet covers are invaluable, as they can be easily removed and washed, accommodating the frequent cleanings often required.
Disclaimer: GiftHelper.ai uses affiliate links. We may earn a commission when you purchase from a site we link to at zero extra cost to you.
Kids Duvet Covers for the youngest ones
For young kids, duvet covers are like magical blankets that can transform bedtime into a fun adventure.

Their cool designs and comfy feel make snuggling even more special.

Best of all, when it's time for a change or a quick clean, switching them out is super easy.
---
Winnie the Pooh and his energetic friend Tigger can now grace your child's bedroom with this cute kids' duvet cover.

Their endearing presence promises to transform bedtime into an adventure from the heart of the Hundred Acre Wood.

This twin-size cute bed set, made from high-quality microfiber material, provides a soft and breathable feel for a good night's sleep. It also features a hidden zipper and envelope pillow shams for a convenient and stylish touch.
---
This Little Mermaid Princess kids duvet cover is sure to captivate your little girl's imagination, transforming her bedroom into a magical undersea world.

Made from 100% brushed microfiber, the set includes a kids duvet cover and two pillow covers, all boasting a vivid, 3D-printed mermaid design.

Soft, breathable, and fade-resistant, it makes a unique and heartwarming gift, especially suitable for birthdays or Christmas.
---
"Peppa Pig", a relatively recent icon among younger children, is featured on this charming kids duvet cover.

Perfect for little ones, these covers transport the playful and educational world of Peppa Pig right into their bedrooms.

The Peppa Pig Baby Toddler Bedding Set showcases a cute design, made of 100% cotton Oeko-TEX fabric. With a duvet cover and pillowcase suitable for babies and toddlers, it's a fun and comfortable choice for kids' bedding.
---
"Paw Patrol" is an engaging children's animated series that promotes values like teamwork, problem-solving, and good citizenship.

Through high-stakes rescue missions, the show instills a can-do attitude and underscores the importance of helping others.

If your child adores animals, they will undoubtedly cherish this adorable cute bed set.
---
"Sofia The First" is an enchanting animated series on Disney+ about Sofia, a young girl who unexpectedly becomes a princess.

Girls adore it for its captivating stories, magical adventures, and the relatable journey of Sofia, who embodies grace, bravery, and kindness in her royal life.

Its environmental-friendly active dyeing process and color fastness rating of 3-4 ensure a safe and vibrant kids duvet cover for your child's room.
---
Mickey Mouse, a timeless classic, is cherished by children worldwide.

Adding Mickey Mouse kids duvet covers to your child's bedroom introduces a fun and familiar touch, making bedtime a delight.

Its reactive printing and dyeing process ensure it's machine-washable and fade-resistant, while the easy care instructions make maintenance a breeze.
---
The "I Love Dogs" cute duvet cover, ideal for dog aficionados, showcases adorable illustrations of various breeds.

Made from premium, breathable microfiber, it offers year-round comfort.

Designed with a hidden zipper and corner ties, it combines style and functionality in one package.
---
The "Animal ABC" kids' duvet cover from Erosebridal is a delightful addition to any child's room.

Each cover features colorful and imaginative illustrations of animals from A to Z.

Made from premium, soft, and durable fabric, these kids duvet covers foster a cozy and educational sleeping environment.
---
For kids fascinated by dinosaurs, these dinosaur-themed kids duvet covers can morph bedtime into a prehistoric escapade.

These vivid and intricately designed beddings spark their imagination, enhancing comfort while adding a thrilling touch to their room decor.

It's every young dinosaur enthusiast's dream.
Twin Bed sets For Elementary-Age Kids
For elementary school kids, rocking a duvet cover with your favorite character or pattern makes your bed the coolest spot in the house.

It's like having a piece of your own world to dive into every night.

And if their tastes shift, changing them is a cinch while keeping the comforter.
---
Ladybug is an animated series chronicling the escapades of Marinette, a Parisian teenager who morphs into the superheroine Ladybug to shield her city from supervillains.

Together with her partner Cat Noir, they utilize their magical abilities and teamwork to save Paris from evil forces.

This bedding option for kids highlights a delightful Ladybug design on top-quality, easy-to-maintain microfiber polyester material.
---
SPY×FAMILY is a popular manga series that has captured the hearts of many.

It chronicles the life of Loid Forger, a master spy, who creates a faux family to accomplish his mission. However, he soon finds himself embroiled in unexpected and heartwarming escapades.

This kids duvet cover set boasts a duvet cover with a concealed zipper and envelope closure pillowcases, ensuring a tranquil and restful night for youngsters.
---
The Sparkling Unicorn 3D Duvet Cover is an ideal adornment for any unicorn aficionado's bedroom.

Its lively and fanciful design instantly elevates the ambiance of any bedding, rendering it a delightful and magical selection for girls.

Crafted from robust and gentle 100% polyester with 3D digital printing, it promises vivid colors that resist fading and a concealed zipper for ease of use.
---
The Soft Touch Solar System Duvet Cover captivates kids who are fascinated by the cosmos.

Its radiant design, replete with planets, stars, and rockets, engages their imagination, turning bedtime into an exhilarating space odyssey.

It's designed for convenience with wrinkle-free and fade-resistant features. This kids duvet cover set includes one duvet cover and one pillowcase.
---
The Baseball Game Lover's Duvet Cover is a splendid addition to any boy's room, especially if they're ardent baseball enthusiasts.

Crafted from supple microfiber, this kids' duvet cover combines comfort with durability, offering an optimal balance of coziness and breathability.
---
Perfect for girls who are enchanted by the magical and the whimsical, the Sparkling 3D-Printed Unicorn Duvet is among the top choices for girls' bedding sets.

Its vibrant hues and shimmering design usher them into a realm of wonder each time they drift off to sleep.
---
In today's age, it's rare to encounter a child unfamiliar with Pokémon, and this item is bound to be a hit with them.

Showcasing Pikachu and other iconic characters from the Pokémon series, it's known for its endearing design. Note: This is a comforter, not a kids duvet cover. While Pokémon-themed duvet covers are scarce, no cute bed set post would be complete without a nod to this cherished franchise!
Twin Bed sets For Teens
For teens, duvet covers are not just about comfort: they're about expressing yourself.

Whether it's a chic pattern or a bold color, it's an effortless way to make your space truly yours.
---
The Chemistry-Inspired Duvet Cover Set is tailor-made for kids with a passion for science and chemistry.

Sporting a vibrant and instructive design that showcases the Periodic Table of Chemical Elements, it fosters a stimulating and educational environment in the bedroom.
---
Anime has struck a chord with many teens.

This Anime Duvet Cover Set, embellished with an array of characters from celebrated anime series, is perfect for young enthusiasts.

Crafted from premium microfiber, it offers unparalleled softness and breathability for a restful slumber. Also, you can easily wash it in a machine and dry it in a dryer.
---
The Marvel Avengers have dominated the pop culture scene in recent years.

This kids duvet cover theme, adorned with youngsters' favorite Marvel characters, fosters a sense of kinship and exhilaration, imbuing their bedrooms with energy and excitement.
---
Dragon Ball is an anime classic that has stood the test of time.

The Deluxe Microfiber DBZ Duvet Set is a must-have for any child who adores Dragon Ball Z. The soft and snug microfiber material ensures restful nights, while the DBZ motif infuses an element of fun and enthusiasm into the room.
---
The Spider-Man Microfiber Duvet Set is the dream bedding for fans of the legendary superhero.

Crafted from plush microfiber material, this duvet set is not only snug but also flaunts a dynamic and striking Spider-Man design that will surely captivate fans. This vibrant red, 3-piece kids duvet cover set comprises a duvet cover and two pillow shams. It's available in both twin and full sizes, made of airy, breathable microfiber polyester fabric.
---
The 'One Piece' Twin Bedding Set is an impeccable choice for children who are followers of the esteemed anime and manga series.

With its lively and vivid depiction of the series' protagonists, this kids duvet cover set is a treasure for every One Piece admirer. The set, suitable for both boys and girls, boasts a 3D anime design, comprising a quilt cover and two pillowcases, adding charm and style to any child's room.
---
The Unicorn Lover's Dream Bedding Set is the quintessential pick for any child who cherishes unicorns.

Its radiant colors and enchanting unicorn illustrations turns any bedroom into a fairy-tale setting. Crafted from superior microfiber fabric with state-of-the-art digital printing, the dazzling patterns remain vibrant even after numerous wash cycles.
---