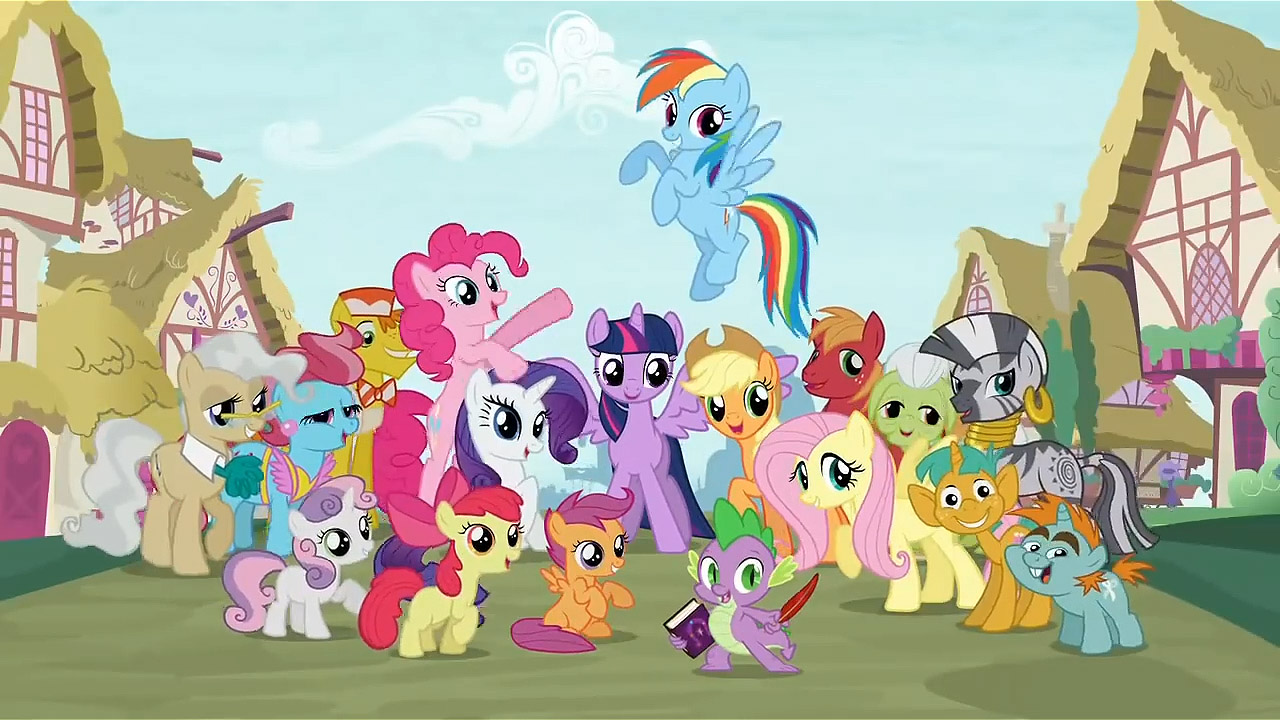 If My Little Pony characters know anything, it's how to enjoy a party.

Become the Pinkie Pie (MLP's resident party-thrower) of your group with this useful birthday party supply guide.

Maya S, our in-house MLP expert, has compiled a list of must-have My Little Pony party items to help you throw the party of your life.

My Little Pony is a beloved series that transcends age, captivating both children and adults with its charming characters and meaningful life lessons.

Dive into the hype and throw a party fit for a pony!
Disclaimer: GiftHelper.ai uses affiliate links. We may earn a commission when you purchase from a site we link to at zero extra cost to you.
Party Essentials
Everybody knows the festivities kick off even before the main event. What's a party without guests?

This set includes 8 high-quality My Little Pony-themed invitation cards that will bring anticipation to any MLP birthday party.

The vibrant, postcard-style design features the Friendship Adventures theme and a cheerful 'Party like a Pony!' headline.
---
If you prefer buying a premade pack, the My Little Pony Birthday Party Kit comes providing a complete set of party supplies and decorations for up to 16 guests.

This kit includes high-quality disposable dinnerware like large plates, cups, and napkins, and also festive decorations like a heart pennant banner and special 'Birthday Girl' button for creating memorable parties for children.
---
Avoid invitees getting lost on the way! This MLP-themed party decoration set includes 16 vibrant and festive party directional signs.

A simple and fun way to add a dash of magic to any MLP party, these directional signs not only guide your guests but also contribute to the overall festive atmosphere.
Tableware
The My Little Pony Party Bundle comes with 24 paper cups featuring your favorite characters from 'My Little Pony'.

This makes for a versatile and amusing surprise, easily fitting into any child's birthday party theme.
---
If you're looking for more durable cups, consider this BPA-free plastic stadium cup featuring a charming My Little Pony design.

You can use them either as the main cups for the party or as giveaway gifts.

Safe for dishwasher use, these cups are highly washable and reusable.
---
This package includes a set of 40 large square plates featuring the main characters from My Little Pony, making it perfect for a themed birthday party.

High quality, made in the USA, these colorful and trendy plates are specially designed to fit any MLP party.
---
A cake topper set featuring well-loved My Little Pony characters, Rainbow Dash and Twilight Sparkle.

Not only does it serve as a delightful cake decoration for a My Little Pony themed birthday party, but also doubles up as a toy set for post-party imagination fueled play.

Made of food-safe plastic, these sturdy figures stand steady on cake and can withstand play time, ready to add cheer to your celebration cake!
---
These cookie cutter molds are perfect if you're planning to bake for the party.

Each cutter features a popular My Little Pony character, allowing you to create personalized cookies for your MLP party.
Decoration & Atmosphere
This is a 'My Little Pony' themed wall decorating kit for birthday parties.

Containing multiple pieces including banners and cutouts, it helps to create a playful, colorful atmosphere.
---
This MLP Happy Birthday banner is essential for any My Little Pony-themed celebration. Add a playful touch to your child's special day with this vibrant banner.

Easy to set up, it features the loveable G5 characters, and it's designed to delight your little earth pony and her friends.

---
If you want to throw a themed party, this My Little Pony Rainbow Dash Super Shape Balloon is a perfect fit.

A larger than usual balloon, it features the popular character Rainbow Dash and is perfect for adding a touch of magic to any celebration.
---
A set of five premium quality 'My Little Pony' themed helium balloons, perfect for livening up event venues and creating memorable experiences.

Featuring a vibrant blue and pink color style, they serve as an ideal focal point for any 'My Little Pony' themed party.
---
For complete decoration of the house — and that includes the bathroom — consider this unique 'My Little Pony Dream Big' themed shower curtain.

This product is not only fun but also functional. Made from 100% softened polyester and printed with beautiful My Little Pony designs, you can continue to use it even after the party!
---
The product is a pack of 12 My Little Pony themed swirl decorations showcasing popular characters such as Pinkie Pie, Rainbow Dash, and Twilight Sparkle.

This fun-packed decoration is aimed to add extra flair to kids' birthday parties, made from durable cardstock and foil materials.
---
The Rainbow Themed Backdrop Kit is a delightful party decoration set designed for a variety of events.

The kit includes high-quality latex balloons in white, vibrant colored crepe papers, balloon knotter, balloon tape, and adhesive glue.

It's easy to assemble and adds a unique pop of color to any celebration.

Ideal for rainbow or 'My Little Pony'-themed parties.
---
Another excellent decoration item that lasts long after the party has finished is this My Little Pony-themed bedding set, which offers a vibrant and colorful style to any child's bedroom.

It's crafted from soft, durable microfiber which is easy to clean and provides all-night comfort.

This set includes a reversible comforter and a sheet featuring popular My Little Pony characters.
---
A vibrant My Little Pony-themed rug that will instantly perk up any child's room.

This rug is perfectly safe for play, easy to clean, and its colorful design inspires creativity.

Ideal for a nursery, playroom or bedroom and makes an exciting gift for little ones.
Wearables
Every MLP fan has a favorite character, and this package includes 12 of the most adorable pony character masks for a "pony disguise party"; or just as random gifts for the party attendants.

Help ignite your child's imagination with these adorable pony masks, excellent addition for any pony-themed party or simply as part of your little one's dress-up collection.

---
Have fun with these My Little Pony themed party sunglasses, an instant party starter and comfortable to wear.

They provide 100% UV400 protection and impact resistant lenses, ensuring safety along with style.
---
These are high-quality, lightweight paper party hats featuring characters from My Little Pony that can complement the pony disguise party theme.

Perfect for your next party, they are designed in a classic cone shape and come with an elastic string for security.

---
This pack features three adorable My Little Pony t-shirts for girls that can serve as prizes for your party.

Each shirt is beautifully screen printed with popular My Little Pony characters and is easy to care for with machine washable features.


---
An officially licensed My Little Pony girls' dress, made from a blend of cotton and polyester, is designed just for the Queen of the Party.

It features a stylish rib knit crew neck collar, ruffles by the shoulders, and a unique screen print design of the popular character Rainbow Dash.
---
This is a deluxe My Little Pony-themed headband that's perfect for an MLP party, either as a wearable item, as a prize, or simply to complement the face masks.

It features sequin-embellished blue pony ears and colorful rainbow bangs, making it a delightful surprise for any young My Little Pony fan.
Gifts & Games
A pack of 12 My Little Pony themed party favor bags.

Developed using durable, high-quality materials, these reusable bags are designed with colorful prints of beloved characters.

Perfect for packing treats for children's parties or gatherings, they add a fun, memorable touch to any celebration.
---
Experience the fun of 'My Little Pony' with this Amazon Exclusive 'Meet The Mane 6 Ponies' collection.

You can use them as a giveaway, as garnish, or as cake adornment.

Based on the hit television show, this set includes six colourful, 3-inch figures featuring character-inspired expressions and signature poses.

---
A delightful pack of 12 PEZ candy dispensers, each adorned with a character from My Little Pony.

Every dispenser comes wrapped individually along with two additional PEZ candy refills.

Perfect as a gift, as a prize, or for playing "Easter pony egg" during the party.
---
A pack of 8 delightful My Little Pony themed party blowouts.

These blowouts are adorned with heart-shaped medallions, featuring popular My Little Pony characters.

Ideal for adding a fun splash of color to any MLP party.
---
This is a bundle of over 70 officially licensed My Little Pony G4 themed temporary tattoos.

The tattoos are easy to apply and remove, making them perfect for children's parties or as unique gift items.

Each pack contains assorted designs featuring beloved characters like Twilight Sparkle, Fluttershy, Pinkie Pie and others.
---
Add a touch of magic to your child's party with these My Little Pony G5 temporary tattoos.

Certified safe, these easy to apply and durable temporary tattoos feature beloved My Little Pony characters.

Perfect as party favors or a fun addition to your child's sticker collection, these tattoos offer safe, exciting fun and are ideal for any My Little Pony-themed gathering or event.
---
This sticker bundle, featuring beloved characters from the My Little Pony series is the perfect addition to any party.

With over 175 stickers including the much-loved Cutie Marks it can turn any event into a magical pony experience.

These stickers, officially licensed MLP party supplies, are perfect for party favors or the goodie bags.
---
The My Little Pony DIY Necklace set is a fun and engaging toy allowing children to make their own jewelry.

Featuring colorful beads, engaging character charms, and an easy-to-use design, the set encourages creativity and hands-on play.

Everything needed is included and stores neatly within the plastic carry case for easy storage and transport.
---
This product offers 100 assorted My Little Pony theme bandages, suitable for minor cuts, scrapes, and burns, although you can use them as fun stickers for the party guests.

They are designed not only to cushion and protect wounds without sticking to them but also to double as fun stickers.

They are durable with a sure-stick adhesive and an easy-open wrapper, made by a reputable consumer first aid manufacturer in the USA.
---
These play packs are themed around the beloved children's show, 'My Little Pony'.

Each pack features a set of crayons, a mini coloring book, and a sheet of stickers, making it a great party favor for children's birthday parties or classroom events.

Ideal for a My Little Pony-themed party or event.
---