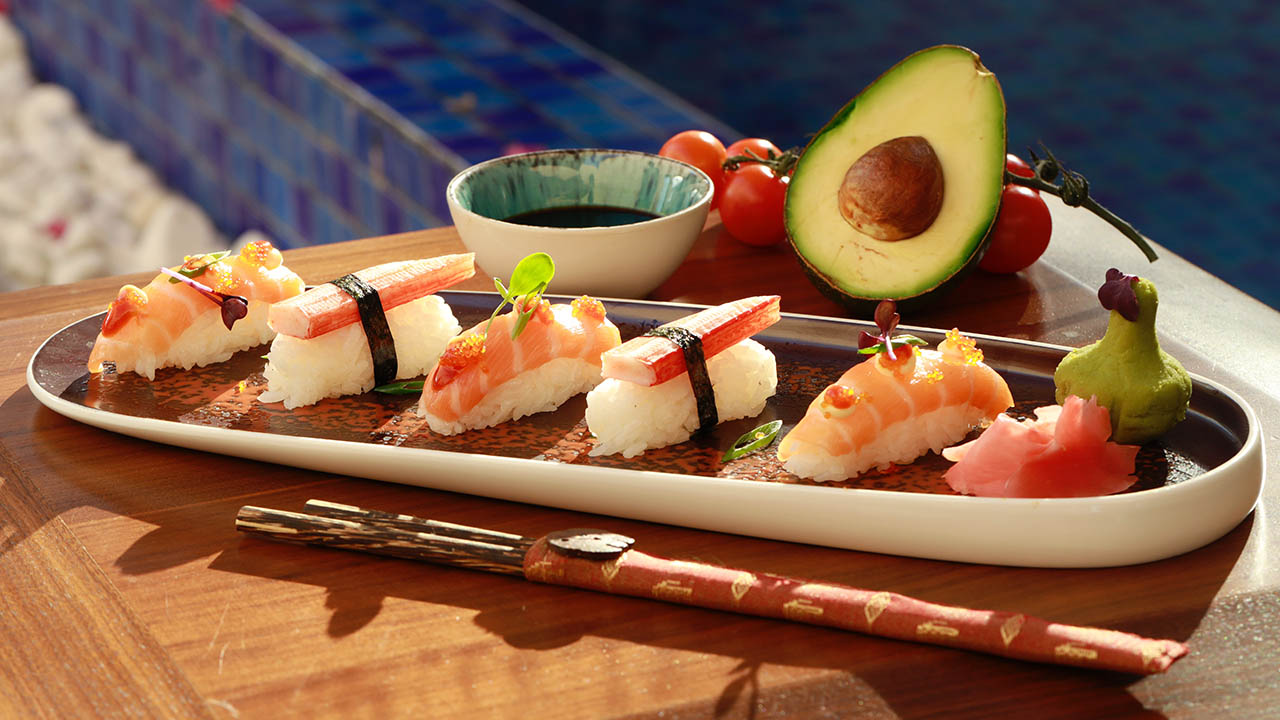 Searching for the perfect sushi gift for your sushi-loving friend can be a delightful adventure.

From sushi-making kits and beautifully crafted sushi plates to intricate keyrings featuring cats as sushi, there's a sushi gift out there to satisfy everyone.

We also provide a brief explanation before each type of gift to offer insight into why those items are important in the process of making sushi, and significant for a sushi lover.
Disclaimer: GiftHelper.ai uses affiliate links. We may earn a commission when you purchase from a site we link to at zero extra cost to you.
Sushi-Making Kits
A sushi-making kit is the DIY star of sushi gifts. It contains all the tools you need to make sushi.

The quality of the bamboo mat and sharpness of the knife can significantly influence the outcome of your sushi rolls.

Aside from the tools, sourcing fresh ingredients like sushi-grade fish and perfectly cooked sushi rice is essential for authentic flavor and texture.
---
This beginner-friendly sushi making kit has four different sushi tools, including bamboo mats, a bazooka roller, temaki mats, and a rice mold.

It's like having your own sushi restaurant in your kitchen! Plus, it's beginner-friendly and comes with everything you need, so you can start rolling sushi like a pro in no time.
---
This set comes with all the tools needed to make sushi rolls like a pro, so they can impress everyone with their culinary skills.

It's perfect for beginners too, with a sushi kit cookbook and free e-book included to unlock their sushi-making potential.

Give them the gift of becoming a sushi chef in their own kitchen!
---
This sushi making kit has it all! With four different sushi tools, including bamboo mats, a bazooka roller, a temaki mat, and a rice mold, you'll be able to create all kinds of sushi rolls.

It includes a booklet user guide that provides step-by-step instructions and six sample recipes.

Sushi Rice Cooker
Sushi rice is distinct – it's short-grained and seasoned with a mix of vinegar, sugar, and salt.

Using a rice cooker ensures that the rice maintains its delicate balance of flavor and stickiness, essential for holding the sushi together and complementing its various toppings.

Not to mention, it's easier to achieve consistent results with a rice cooker than by boiling the rice in water!
---
Zojirushi is a well-respected Japanese brand that produces a wide variety of household products. When it comes to rice cookers, Zojirushi is often considered one of the top brands, with a long-standing reputation for quality, innovation, and durability.

This sushi rice cooker has special settings for different types of rice, including sushi rice, so your sushi-loving friend can make perfect rice every time.

It also has a triple heater that evenly heats the rice from all sides, ensuring a delicious, fluffy result.

---
Cuckoo is a South Korea's #1 brand known for its high-quality rice cookers and other kitchen appliances.

The company has been in operation for decades and has built a strong reputation, especially in the realm of rice cookers.

This rice cooker is perfect for sushi lovers who love to experiment with different rice options. With 11 menu programs including white rice, brown rice, and porridge, you can create all kinds of sushi rice variations.
---
Aroma Housewares is an American company that's well-known for producing a variety of kitchen appliances, including rice cookers.

Aroma is generally considered a more budget-friendly brand.

Cooking rice with this rice cooker is extremely easy, with its one-touch operation and automatic Keep-Warm feature, which makes it excellent for beginners.
Nigiri & Sashimi Knife
Nigiri & Sashimi knives are important because they are specially designed to slice through delicate fish without tearing, ensuring clean cuts for optimal presentation.

Their sharpness and unique shape allow for precision, which is essential for the thin slices required for sashimi and the topping on nigiri.

Using the right knife ensures the preservation of the fish's texture and flavor, enhancing the overall sushi experience.
---
Kamikoto is a brand known for its Japanese-style knives.

Their knives are often crafted with attention to traditional Japanese knife-making techniques while appealing to a modern audience.

This is a handcrafted artesanal knife set with its own Certificate of Authenticity that will make your friend feel like a pro sushi maker.
---
Lucky Cook 10-inch sashimi knife is specially designed to slice delicate fish and sushi rolls without destroying their beautiful structure.

Its long, narrow blade makes filleting a whole fish a breeze in just a few quick movements.

Perfect for chefs of all levels, this high-quality knife boasts a super sharp stainless steel blade, a comfortable wooden handle, and it even comes in a stylish box to show off its awesomeness.
Bamboo Rolling Mat
Beyond its functional use, the bamboo mat represents the traditional methods of sushi-making.

It ensures that maki rolls have even pressure applied from all sides, producing a well-shaped and tightly packed roll, making it a thoughtful sushi gift for those interested in traditional sushi crafting.
---
This sushi gift is made of eco-friendly bamboo, adding a touch of nature to your sushi-loving friend's kitchen.

Plus, its compact size of 9.5"W x 9.5"L makes it ideal for both small and big sushi parties!
---
Looking for a sushi-themed gift? This awesome set includes 2 rolling mats, so your sushi-loving friend can roll like a pro! Made of natural bamboo, it's eco-friendly and safe to use.

Plus, it's perfect for parties, holidays, and even camping trips.

Sushi Plates & Serving Sets
Sushi isn't just about taste; it's a visual treat.

The aesthetics of sushi plates emphasize the vibrant colors and intricate textures of sushi, from the glossy fish to the shimmering roe, all playing their part in the sushi experience.

This gives you an excellent opportunity to find the perfect sushi gift matching your friend's tastes.
---
These elegant and eco-friendly sushi plates are handcrafted from high quality bamboo for a sustainable and beautiful dining experience.

Two plates come with the set so that they can enjoy their meal in company.
---
If you want something more ceremonious, check out this premium Sushi Ceremony Set! It comes with everything you need - sushi plates, sauce dishes, chopsticks, and chopstick holders.

The plates and bowls are made of fancy ceramic that's scratch-free and easy to clean, and the chopsticks are safe and easy to use.
---
Looking for a funny sushi-themed gift ? This shark attack sushi plate will take your sushi night to the next level, with its playful design and small soy sauce bowls securely held in the shark's jaws.

It has a built-in chopsticks rest on its tail fins, making it a space-saving serving set that's perfect for any occasion.
---
The hand-painted cherry blossom patterns on these sushi plates are exquisite, luxurious and relaxing, perfect for adding a touch of elegance to any occasion.

Additionally, the unique flat shape of the platter, inspired by leaves, adds a beautiful and distinctive touch to your table.
---
This sushi gift is perfect if you know the recipient likes Naruto.
The Naruto Shippuden Ceramic Sushi Set is perfect for fans of the anime series who want to upgrade their mealtime with a geeky flair.

The bold black and white design, featuring Naruto Uzumaki and the Hidden Leaf Village symbol, will catch the attention of any sushi lover.

Soy Sauce Dispensers & Dishes
Soy sauce is a fundamental condiment for sushi, enhancing and complementing the flavors of both the fish and the rice.

Its salty and umami-rich profile elevates the overall taste experience of sushi, bringing a depth and complexity to each bite.

Soy sauce dispensers allow for precise and controlled pouring, ensuring that the sushi isn't overwhelmed by the sauce, maintaining a balanced flavor profile.
---
The black and red sauce dispenser is a compact 4.75 inches tall and can hold up to 7 ounces of sauce, making it convenient for pouring.

Its elegant ceramic design with white Japanese lettering and a red top adds a touch of uniqueness to your kitchen.
---
This handmade ceramic soy sauce dispenser is the perfect gift for sushi lovers, with its elegant appearance and comfortable grip.

Its easy-to-control dosage makes it ideal for flavoring Japanese cuisine.


---
Made in Arita, Japan, renowned for its 400-year history of producing exquisite ceramics, this dispenser is a unique and stylish gift option.

With its capacity of 2.5oz, it is convenient to use and store. Plus, it's dishwasher safe for easy cleaning.
Wasabi & Pickled Ginger
Wasabi, with its fiery punch, and pickled ginger, with its tangy zest, are more than just condiments.

They represent the balance in Japanese cuisine, contrasting and complementing the flavors of the sushi, making them a spicy and tangy sushi gift idea.
---
Wasabi O products are made from the highest quality, natural ingredients, ensuring an authentic taste and flavor, and this one is no exception.

These products were created by renowned chef Walter, who has extensive experience in the Japanese cuisine industry, making them perfect for a restaurant-quality experience.
---
This sushi gift set comes in a convenient package, making it hassle-free and perfect for busy individuals who love sushi.

---
White gari ginger, often simply referred to as "gari," is a sweet pickled ginger commonly served alongside sushi as a palate cleanser.

Its mildly tangy flavor and crisp texture complement the rich taste of sushi, ensuring that each bite can be fully appreciated.
Sushi Cookbooks
While visual aids are now often preferred over reading, written references remain valuable.

These books, with clear step-by-step instructions, are excellent gifts for sushi beginners.

They provide a convenient and comprehensive resource without the need to search for recipes online.
---
The Sushi Cookbook for Beginners offers 100 easy-to-follow recipes that will turn your kitchen into a sushi workshop.

From classic seafood choices to vegetarian options, there's something to suit every taste.

---
This Cookbook has an step-by-step approach and plenty of pictures, making it the perfect guide for beginners to dive into the art of sushi with ease.

Additionally, the cookbook offers over 100 classic and innovative sushi recipes, ranging from traditional fish and seafood options to vegetarian alternatives and even dessert sushi, providing endless possibilities for creating delicious homemade sushi.
---
This book is a complete guide to mastering the art of sushi, offering a wealth of technical and practical information for sushi chefs and enthusiasts.

It covers everything from the science behind each ingredient to the techniques and movements needed to create magnificent sushi.

Readers will learn about the intricacies of finding fresh seafood, understanding the anatomy and science of each ingredient, and how to prepare them.

They will also discover the importance of using and maintaining high-quality tools, including Japanese kitchen knives and bamboo mats for rolling sushi.

Chopstick Sets
Chopsticks, deeply rooted in East Asian cultures, have long been the traditional utensil for consuming a variety of dishes, including sushi.

For sushi enthusiasts, using chopsticks provides an authentic dining experience, connecting them to the cultural origins and rituals of sushi consumption.

Mastering the art of handling chopsticks also demonstrates respect and appreciation for the traditions surrounding sushi and its presentation.
---
This sushi gift set include its premium natural wood material with a safe coating for easy cleaning.
Its unique Japanese design with a set of bamboo pattern chopsticks and
adorable panda
porcelain rests, and its versatile use for enjoying various Asian foods.
---
The HuaLan natural wooden chopsticks are made of high-quality jujube wood, providing a healthy and durable option for sushi lovers.

With a non-slip design and lightweight construction, these chopsticks are perfect for beginners and can be used continuously without causing fatigue.

---
The metal chopsticks feature an elegant flower vine pattern on a titanium plated black surface, making them not only stylish but also durable.

With a non-slip design and easy-to-clean material, these chopsticks are perfect for enjoying sushi without the worry of dropped food or moldy residue.
---
Impress your friend with epic light saber chopsticks, taking your sushi nights to another star galaxy.

Wage colorful wars with your food using these light-up chopsticks, featuring bright red and blue LEDs.

Bento Box
Traditionally, bento boxes were used to carry a balanced meal, with sushi often being a star player.

They are compartmentalized to maintain the freshness of each component, ensuring that your sushi remains as delightful at lunchtime as when it was first prepared.

For someone who adores sushi on-the-go, a bento box is a fantastic sushi gift.
---
This stackable double lunch box is perfect for sushi lovers.

It features a beautiful plum flower design and is made of food-safe plastic, ensuring safety.

Additionally, it is compact and space-saving, as the upper container can be placed inside the lower container.
---
The Umami's Japanese bento lunch box for adults allows you to create perfect, healthy portions that are flavorful and nutritious, leaving you satisfied without feeling stuffed.

Its 100% leakproof design ensures that no food or liquid spills, making it the perfect companion to take anywhere.
---
For friends who love sushi and love Studio Ghibli productions, this is your choice.

This bento lunch box is inspired by Kiki's Delivery Service, one of the most popular and heartwarming Ghibli movies out there.

Sushi Fun Stuff
Finally, isn't life meant to be fun?

Many of these sushi gift ideas aren't related to sushi preparation, but they're sure to delight your fortunate friends.
---
Rice balls (onigiri) are usually triagular or round, but this onigiri sushi mold offers fun creative possibilities for making delicious and decorative rice balls.

It is easy to use, making it suitable for beginners and perfect for preparing lunches for your kids and family.

Additionally, the nori seaweed cutter can be used to create interesting shapes in other foods, making it a versatile tool in the kitchen.

---
With 8 cute sushi designs, these fridge magnets have a lifelike appearance, making them perfect as gifts for sushi and Japanese culture lovers.

Made of PVC and strong magnets, these 3D Japanese-style sushi magnets will stay securely attached to any magnetic surface.

---
The cute kitchen apron is a delightful blend of style and functionality, featuring an adorable cat character donning different sushi rolls.

It's a unique fusion of Japanese art and culinary charm that your friends will love.

---
These funny sushi-like earrings are are handmade from Polymer Clay, making them unique and special.

They come in a nicely packed eco-friendly box and can be customized with gift wrapping and a personalized message for a thoughtful touch.
---
The Mythical Cat Sushi keychain collection combines cats and sushi, making it a perfect gift for sushi and cat lovers alike.

Unfortunately they only include one random cat, but on the bright sight they're so cute that whichever you get, it'll be a great gift.
---
With a manmade sole, these shoes boast top-grade comfort with a soft fabric composition, elasticated back, premium foam, and non-slip soles.

Perfect for any occasion, from a night in to a sushi party, these versatile shoes come in three sizes and are backed by Coddies' quality guarantee.
---