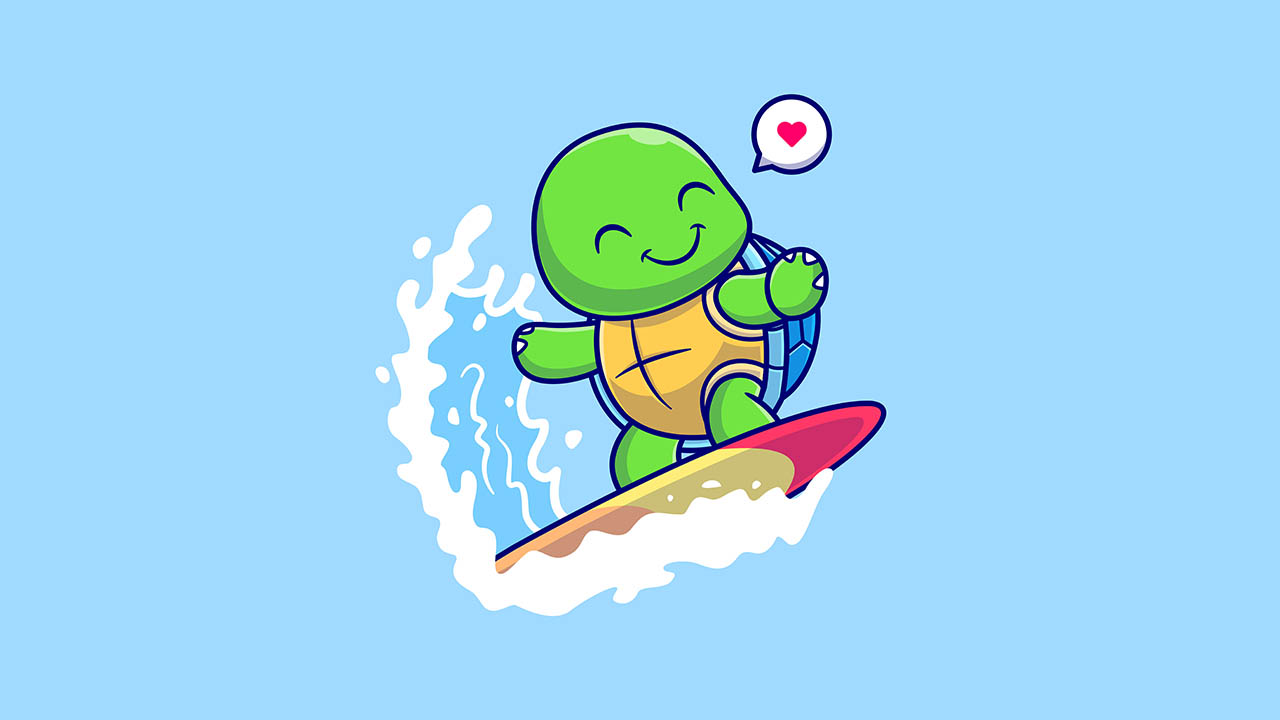 From their slow, steady movements to their adorable, retractable heads, turtles have a unique charm that children find irresistible.

Whether it's through plushies that offer cuddly companionship, educational books that feed young minds, or t-shirts that let kids wear their turtle love on their sleeves, there's something for every turtle enthusiast.

Kids also enjoy fictional turtle icons like the iconic Teenage Mutant Ninja Turtles, or, in the villainous side, the turtle-like Bowser and the Koopa Troopas from Mario's games.

So, if you're looking to indulge your child's love for these amazing creatures, you're in the right place. Stick around as we explore the best turtle-themed products that are sure to bring smiles and joy. Happy reading!
Disclaimer: GiftHelper.ai uses affiliate links. We may earn a commission when you purchase from a site we link to at zero extra cost to you.
Turtle Plush Toys
This award-winning Reversible Turtle Plushie is both a soft portable plaything and an effective tool for emotional communication.

By simply flipping the plushie, you can show your mood, make it a fun tool during work-from-home hours or amongst friends and family.

Join the viral sensation as seen on TikTok and collect all variants, including unicorns, narwhals, cats, dogs, pandas, and more!
---
This Big Plush Sea Turtle Toy is a soft, cuddly stuffed animal, perfect for hugging and snuggling.

Being 25 inches, it's great for children and adults alike, making the perfect gift for any occasion.

With its adorable look, it also makes for a wonderful addition to any bedroom or playroom.
---
A plush, stuffed sea turtle covered with sparkling sequins, designed to be not only a toy but also a tool for sensory development and creativity in children.

As they flip the sequins, it changes color, enhancing awareness and creative thinking.

It is also a way to engage the imagination of children about sea creatures and inspire them to value the protection of animals.
---
The Mum and Baby Turtle Plush is an enticing set of soft toys featuring a large mother sea turtle with a zippered belly that holds three baby turtles and two turtle eggs.

Beyond being suave and comforting, these toys also promote children's fine motor skills, social skills, and creativity.

They are safe for all ages, hand or machine-washable, and are also a charming piece of decor.
---
A charming Turtle Plush Toy Set that contains a large 'mother' turtle and three multi-coloured baby turtles.

Designed with soft and plush materials, these turtles offer cuddly comfort and interactive play.

The mother turtle's shell features a zipper, providing convenient storage for the baby turtles.

Ideal for nurturing sensory skills and emotional development.
---
Belle Turtle Learning Toy integrates fun and education, aiming to boost early childhood development.

This plush toy employs Montessori sensory theory to enhance color recognition, problem-solving, and fine motor skills.

Featuring decorated numbers, color-matching straps, a diversity of clasps, and a glide zipper pocket, it perfectly combines learning with play.

A great travel companion, it keeps kids engaged on the go.
---
The Teenage Mutant Ninja Turtles are among the most famous turtles when it comes to kids.

This high-quality plush toy set brings to life the vivid images from the classic animation.

Made from soft plush material, it's perfect for cuddling and can serve as a collectible or a beautiful gift for fans of all ages.

---
This Raphael Plush Pillow Buddy is a super-soft, supportive, and durable character pillow from the Teenage Mutant Ninja Turtles series.

Made of 100% polyester microfiber, it provides great comfort to kids, making it perfect for car rides, school, or just cuddling at home.

The pillow is part of a larger TMNT collection and makes an ideal addition to any fan's bedroom set.

Pizza not included.
Turtle-themed Educational and Activity Toys
A delightful interactive turtle-themed activity toy for toddlers, designed with multiple textures and patterns.

Besides its engaging patterned design, the toy features a hanging fish teether for baby's gum relief and a mirror on the turtle's tummy.

Also, it can create soothing chime sounds when shaken, providing a multisensory experience for your little one.
---
This Turtle-themed Musical Baby Toy is a fun and educational game designed to stimulate infants' early development.

It features a variety of functions including a crawling turtle, music, colorful lights, a pretend phone feature, and rotating beads.

The interactive toy encourages physical activity like crawling and walking, fine motor skill development, understanding of numbers and letters, and more in a fun and engaging way.
---
This Turtle Balance Stepping Stones set is a toy designed for children aged 3 and up, aiming to enhance their balance and coordination skills.

Consisting of 6 durable, non-slip, and stackable stones, it can be utilized for both indoor and outdoor fun.

The product meets US toy standards suggesting high safety and quality, perfect for creating a lively and development-focused playtime.
---
Embrace your creativity with this 'Paint Your Own Ceramic Turtle' kit, ready to be transformed into a colorful masterpiece.

The kit comes with six vibrant paint colors and a brush, perfect for designing unique color patterns on the turtle's shell.

Once painted, display your turtle indoors or outdoors (with an exterior varnish) to showcase your artistic capabilities.
---
These turtle-themed mini fidget toys are high-quality silicone keychains that produce a powerful sound.

Perfect for party favors or classroom prizes, these toys offer a bright, colorful surprise that kids will love.

With their compact size, they also serve as a sensory toy, offering a fun and interactive experience.
---
A set of 14 lifelike mini turtle figures perfect for both play and education.

Made from eco-friendly and non-toxic materials, these figures are safe for kids.

They come with an app that imparts knowledge about the animals, aiding in expanding kids' vision and developing their imagination.

Not only are they educational toys, but they can also serve as party decorations, game props, and cake toppers.
---
The Turtle Mania is a family-friendly board game themed around turtles.

Players aim to help the turtles find a space on the beach without pushing them into the sea.

This game requires dexterity, a steady hand, and a bit of luck, offering 15 to 25 minutes of entertainment for 2 to 4 players.
---
If you want a fun and educational crafting adventure, this turtle lagoon craft kit is ideal.

It offers everything needed to create a glow-in-the-dark turtle habitat, complete with sea turtles and a starfish made from clay.

Alongside enjoying a screen-free craft activity, kids also learn about marine biology making it an engaging STEAM experience agitating the senses and imagination.
---
This book is a captivating exploration of sea turtles for children.

Packed with lush photography, illustrations, and trusted information from National Geographic, it offers an in-depth look into the lives of these fascinating creatures.

From their long-distance swimming habits to their unique built-in GPS, children will learn about these tranquil and mysterious animals in a fun and engaging way.
---
This educational kids book features turtles and is a part of the National Geographic Readers collection.

Packed with beautiful and engaging photos, it provides information about turtles, encouraging the young readers to become the next generation of scientists and explorers.
Turtle Apparel for Kids
If you want a statement piece for your next dress up event, this lightweight turtle shell backpack is the perfect choice.

Made with soft, skin-friendly material, this backpack not only serves as an ideal costume accessory for Halloween and stage performances, but can also be a unique gift for kids who love turtles.
---
This is a Bowsette Koopa backpack, ideal for any cosplayer looking to carry their small accessories.

Koopa Troopas are a fictional, turtle-like race featured in the Mario franchise.

The backpack features ten vivid spiked shell designs, and is made from environmental friendly latex.
---
The Turtle Lovers Themed T-Shirt is a comfortable, cotton-polyester blend apparel suited for turtle enthusiasts.

Declaring your love for turtles becomes easy with this pull-on t-shirt.

Its classic fit and double-needle sleeve and bottom hem make it an excellent addition to your turtle-themed collection or a great festive gift for any turtle lover.
---
Give your little one a piece of the action with this Kids TMNT Distressed T-Shirt.

This officially licensed Nickelodeon t-shirt features a distressed Teenage Mutant Ninja Turtles group graphic, perfect for young fans of the iconic cartoon.

The t-shirt is machine washable and made from a comfortable blend of cotton and polyester for wearable durability.
---
This is a comfortable toddler t-shirt bearing a charming turtle theme.

Made from 100% cotton, this shirt is machine-washable, making it easy to clean and durable.
---
This is a comfortable, lightly weighted t-shirt with a delightful turtle-themed design.

The shirt features the heartwarming quote 'Just a Girl Who Loves Turtles' alongside a charming turtle illustration.

It's a fantastic apparel choice for individuals who love these delightful creatures and makes a perfect gift too.
Turtle Extras
These are battery-powered, turtle-shaped night lights that automatically cycle through seven different colors.
Made from comfortable, lightweight, and easily cleaned high-quality plastic, they emit a soft light that is suitable for people who dislike sleeping in darkness.
This versatile item can also serve as a charming decoration for any room or as a
fun way to light your kids' bedroom
.
---
The BaaSid Waterproof Stickers are a pack of 50 unique and vibrant turtle decals.

Made from high-quality, durable material, these stickers are designed to add personality and style to a range of items from laptops to bicycles.

They make great gifts for children and adds a touch of fun to their personal belongings.
---
Bring the ocean to your kitchen with the Sea Turtle Cookie Cutter, made in the USA with certified food safe American steel.

Ideal for baking themed cookies and decorating for any holiday, party, or event.

Can also be used with fondant, biscuits, brownies, cakes or craft clay for creative designs.
---
The Turtle Themed Mini Notepad is a cute stationery item perfect for writing quick and important notes.

With a turtle theme and acid-free papers, it can also function as a learning material for children.
---